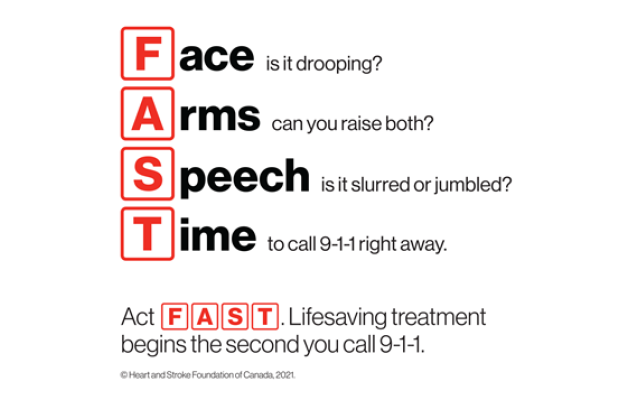 Despite the struggles of the pandemic, the performance of our stroke system continues to be strong. This is due to the ongoing dedication, compassion and hard work of everyone working in stroke care in our region, across the full continuum of care.
At a National level, The Heart and Stroke Foundation developed a media release for Stroke Month- "Canada has been a global leader in driving stroke innovation. World-class research and coordinated systems of stroke care have resulted in more prevention, improved diagnosis, increased life-saving treatments, better rehabilitation and enhanced recovery support. Despite advancements, more needs to be done to prevent stroke, raise awareness and ensure access to care is more equitable across the country. " check out the full release here! For an extraordinary story from  stroke survivor Brandon, please check out this recent KHSC news release. 
The video "Suspect Stroke? Minutes Matter!" that was shared across the province by Northwestern Ontario Stroke Network highlights the importance of calling 911 and acting FAST if you suspect stroke.. A person's chance of receiving vital stroke treatment is enhanced if they get to hospital by ambulance. Paramedics are trained to recognize stroke, prepare for, and transport the individual to the appropriate stroke centre for the appropriate treatment.. "Time is brain" and the video demonstrates how treatment delays can occur if individuals transport themselves to hospital. This message is reinforced by our own Dr. Jalini in her video "Why FAST matters".
Locally, Community Support agencies in our region provide invaluable support to stroke survivors throughout the year. For stroke month, they have been working diligently to promote awareness relative to stroke and aphasia. Some of these activities include a City of Kingston proclamation, Kingston City Hall Illumination (June 30th), distribution of awareness posters, promotion through social media, and participating in interviews on local news stations (CKWS and Yourtv Brockville).
On June 23, 2022, the highly anticipated event "The Right to Accessible Communication with Aphasia: It's a Basic Human Right" will take place from 1000-1200 with keynote speaker Elyse Shumway from The Aphasia Institute. This event is intended to improve understanding of aphasia and discover ways that we can work together to ensure that services provided are accessible to all. click here to learn more!
Thank you to all who work to help the Stroke Network of Southeastern Ontario's vision of "Fewer strokes, Better outcomes" become reality.