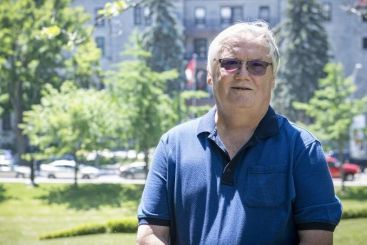 In recognition of Stroke Awareness Month this past June, health care providers within the southeast took the opportunity to support the sharing of stroke survivor stories, enhance awareness of stroke and provide information on relevant services.  June is also identified as Aphasia Awareness Month and this was leveraged to raise community awareness of this common post-stroke impact.   
Doug Duffy, stroke survivor, generously shared his experience with stroke care in the southeast and highlighted the collaborative approach between Quinte Health Care (Belleville) and Kingston Health Sciences Centre as well as the imperative need to immediately call 911 with onset of stroke symptoms.  After providing a timeline of his acute care journey, Doug advised that, "Fast forward to today, I'm back to 100 per cent thanks to the stroke teams at both sites and to the paramedics.  I wish to thank every last one of you; you saved the quality of my life!"  
VON-Greater Kingston, who hosts stroke programs in the KFLA area, undertook several initiatives related to Stroke and Aphasia Month including a Kingston City Hall Proclamation and illumination.  Additionally, Emilia Leslie (Program Coordinator – Stroke Department) partnered with stroke survivor Isabel Guggenheim for a television interview on the CKWS Morning Show.  VON-Greater Kingston also had a giveaway of T-shirts inscribed with the motto, Excuse me while I rewire my brain, I am a stroke survivor, which was created by stroke survivors in the Kingston Support Groups.   
Shell-Lee Wert, Executive Director of Community Care for South Hastings where the Hastings, Prince Edward stroke programs are hosted, contributed two articles to local papers.  The initial article focused on stroke awareness and the second article was dedicated to raising aphasia awareness.  Both articles provided comprehensive but easy-to-understand overviews of these two conditions increasing public understanding.  Additionally, the Mayor of Belleville issued a proclamation for Stroke Month and, coordinated by Lorraine Pyle (Stroke Services Coordinator), five local pharmacies within Belleville also responded to Stroke Month by distributing close to 800 Heart and Stroke Foundation FAST cards.  
Stroke Month also provided the impetus for the first virtual, regional Stroke Awareness Event targeted at stroke survivors and caregivers.  This was a collaborative effort by all three Stroke Support Group Facilitators within the southeast.  This 4-hour event offered participants an opportunity to hear from a variety of subject matter experts who spoke on the 'invisible' impacts of stroke including post-stroke depression, cognitive & memory changes, aphasia and engaging in leisure activities.  The event was very well-received and has prompted requests for additional regional events.   
The Stroke Network recognizes that not all of the wonderful stroke and aphasia awareness events have been captured here and we want to extend our sincere thanks to all who contributed to raising awareness on an individual, group or organizational basis.  It is especially appreciated that activities did go forward while COVID continued to stretch limited resources.  Helping to educate the community on stroke and aphasia increases understanding of risk, response and impacts.  This leads to increased uptake of FAST, improved outcomes and supported community reintegration.