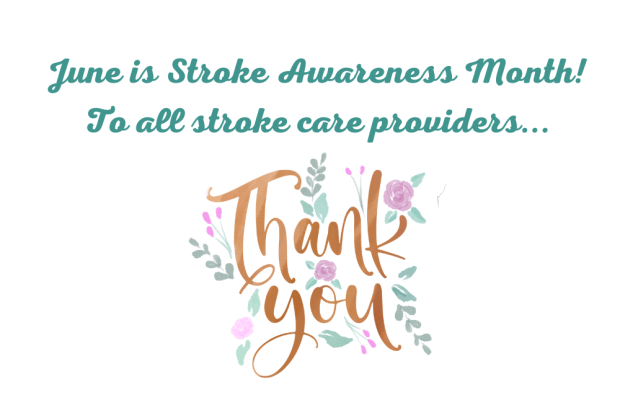 Despite the struggles of the past few years, the performance of our stroke system continues to be strong. This is due to the ongoing dedication, compassion, and hard work of everyone working in stroke care in our region, across the full continuum of care. Thank you to all who help our joint vision to become a reality: "Fewer strokes, Better outcomes".
Stroke Awareness Month is in June and there are many events going on at a National, Regional and Local level
At a National level, The Heart and Stroke Foundation is planning to host a webinar titled "Unseen, Unheard: The mental health impact of stroke on women". The data of this webinar has been postponed from June 6th but we will let you know when we receive notice of it being rescheduled. It will explore how stroke disproportionately affects women. The webinar will offer practical tools and resources to promote better health outcomes for women after stroke.
The Provincial Stroke Rounds scheduled for June 21 and featuring speakers from the Heart and Stroke Foundation to talk about their Acute Care Best Practice Update has been cancelled. This topic will remain a priority and will be featured in a Provincial Stroke Rounds in the fall. Thank you for your understanding. 
Within our region, we are celebrating Stroke Month by hosting our long-awaited Regional Stroke Symposium! This in-person conference will be held at the Kingston campus of St. Lawrence College on June 14th and will feature 20 speakers from across our region, showcasing the newest research and recent changes that drive improvements in "Equity, Innovation and Excellence in Stroke Care". Registration has closed, but if you have questions please email heather.jenkins@kingstonhsc.ca.
Local Community Support agencies in our region hosted a regional stroke awareness event on June 1st called "Stroke Recovery along the Life Span: What Survivors really want you to know". This event highlighted the voice of stroke survivors and what they really want you to know about their unique experiences living with stroke. Keep an eye on our website for videos from this session at Survivor Stories | Stroke Network of Southeastern Ontario (strokenetworkseo.ca). Community Care for South Hastings has arranged for signage to indicate Stroke Awareness Month, a proclamation, education at the Quinte Mall and the distribution of FAST cards through local pharmacies. Community Primary Health Care – Seniors Services has arranged a television interview, booths and signage to promote awareness and a BBQ amongst its members. Victorian Order of Nurses – Greater Kingston will be doing a presentation, television interviews, a newsletter, a proclamation/illumination and has made t-shirts for its members to promote awareness of stroke. We thank the Community Support Agencies across our region for their continued excellent work to promote stroke month awareness and for the invaluable services they provide throughout the year.
Thank you to ALL who help our joint vision to become a reality: "Fewer strokes, Better outcomes".