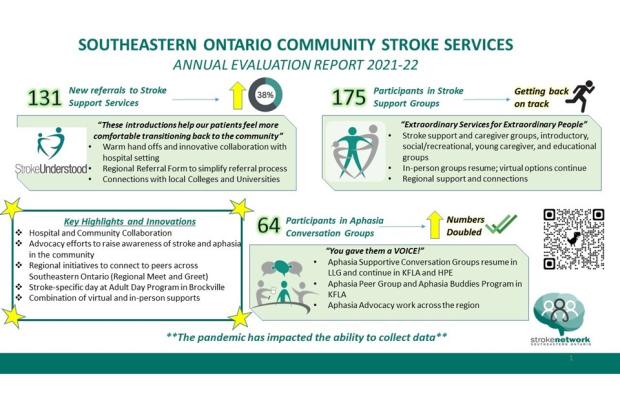 "Extraordinary Services for Extraordinary People"
Stroke survivors and their caregivers speak proudly of stroke support services in Southeastern Ontario recognizing support groups as "comforting", creating an "open window instead of a closed door", stating "groups are great at helping you get through this maze", and that "being able to talk to a group of people that have gone through something similar makes one feel not alone". The recently released Community Stroke Support Services: Southeastern Ontario Annual Report highlights the extraordinary work being done to support stroke care in the community.
The Community Stroke Support Services: Southeastern Ontario Annual Report and Infographic have been released. This report is produced annually in partnership with the Community Support Agencies involved in the delivery of Stroke Support Services: Community Care for South Hastings (HPE), VON – Greater Kingston Area (KFLA) and Community and Primary Health Care (LLG).  
This revamped report is more visually appealing and allows the reader to navigate seamlessly to topics of interest. The topics included in the report are background information, system implications, a summary of stroke services in the community, 2021-22 data and recommendations and next steps. Some highlights from the report include an increase in the number of new referrals to stroke support services by 38% and the number of participants in aphasia supportive conversation groups doubled. The report also revealed that 175 individuals participated in community stroke support services across the region.
Some key achievements and innovations include:
Stroke Awareness and Aphasia Advocacy Work
Hospital and Community Collaborations: Warm hand offs and collaborative groups
Aphasia Support Conversation Groups: Resume in Lanark, Leeds and Grenville
NEW Adult Day Program: Stroke-specific day added in Brockville
Regional initiatives: Meet and greets and a simplified regional referral form
Return to in-person groups: Increasing participation levels and providing options (i.e. virtual and in-person)
This report demonstrates the outstanding and innovative work demonstrated by the community support agencies over the past year. Recommendations for future include the need for added financial support to sustain these valuable services.
To learn more, please access the full report/infographic.
For more information on Stroke Support Services in the community, you can access the Community Supports section of the Stroke Network of Southeastern Ontario's website.