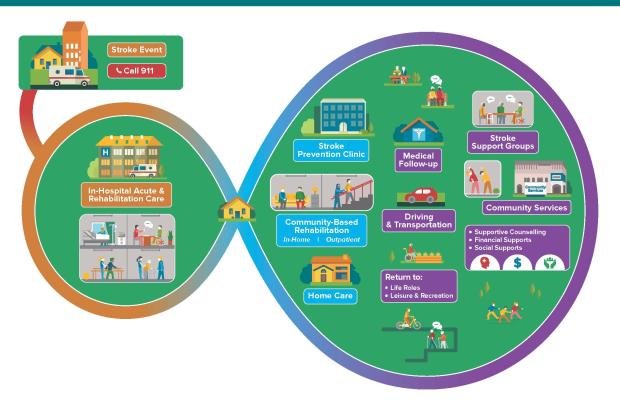 Transitioning from hospital to community is recognized as a challenging time for individuals who have experienced a stroke and their families. Melissa Roblin, Stroke Resource Nurse, Quinte Health Care states " Leaving hospital brings forward both good and bad stress. To alleviate some this stress, we have found it helps to introduce patients and families to our partners in the community prior to discharge. Whether it be an in person meeting with a home and community care OT or a virtual visit with the stroke service coordinator with community care, these introductions help our patients feel more comfortable transitioning back to the community". The adjustment to their new reality, while navigating the healthcare system and discovering the appropriate community supports, is not an easy process. In Southeastern Ontario, healthcare providers have been working to make transitions from hospital to community more seamless for stroke survivors. Representatives from hospitals and community support agencies across the region meet regularly to enhance these connections and collaborate to improve the experience of stroke survivors and their families when transitioning out of hospital.
Jennifer Godkin, Stroke Support Group Facilitator from Senior Support Services (CPHC) collaborates regularly with Brockville General Hospital and Perth and Smiths Falls District Hospital. Some examples of this collaboration include warm hand-offs with the Social Worker at Brockville General Hospital and an exciting upcoming collaboration with the Speech-Language Pathologist to offer aphasia supportive conversation groups at the Great War Memorial Hospital site in Perth. 
Stroke Support Group Facilitator, Emilia Leslie at VON Greater Kingston connects with Providence Care Hospital regularly and conducts a support group in the community that simultaneously connects virtually with a support group for stroke survivors in hospital. This allows stroke survivors to gain familiarity and comfort with stroke support services offered in the community setting to prepare them for discharge.
Lorraine Pyle, Stroke Support Group Facilitator at Community Care for South Hastings connects regularly with the Stroke Resource Nurse at Quinte Health Care through virtual connections with the Integrated Stroke Unit.  This promotes warm hand-offs and allows stroke survivors and their families to become familiar with community supports prior to leaving the hospital. 
The collaboration between these three areas has led to a simplified regional referral form. This form can be completed to refer a stroke survivor to community stroke supports across Southeastern Ontario, no matter where they live. This form simplifies the referral process for healthcare providers. Click here to access the form.
Collaboration between hospital and community healthcare providers leads to improvements in care for stroke survivors and smoother transitions into the community setting. Thank you to our community and hospital healthcare providers for continuing to commit to improving care and transitions for those that experience stroke and their families.
To learn more about Community Supports click here.