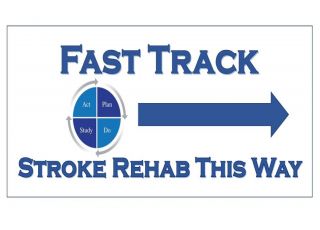 The results are in: a new Fast Track rehabilitation referral process is a sustained success (even through COVID challenges)!
Kingston Health Sciences Centre and Providence Care Hospital have worked together to enable rehab-ready stroke patients who meet Fast Track criteria to move to rehab quickly.  Results from the first year of implementation show Fast Track patients are accepted in a median of 70 min and often transfer the next day. For these patients, the median time from stroke onset to rehab admission is now 7 days. Results also indicate that patients were deemed rehabilitation appropriate and no significant issues were reported on transfer.  On recent patient interview, although the transition to rehab seemed "quick", the patient reported being "happy and optimistic" to get to rehab. Both KHSC and PCH have adopted the trial process and moved it to permanent operations.  The focus on the project has now become sustained monitoring. This has included work to ensure an ongoing method of tracking and reporting on Fast Track and Regular stroke rehab referrals.  Key to success was the quality improvement approach used, where stroke teams identified process changes and collaborated regularly on implementation.
The process has been sustained with similar results during COVID.  The process for Fast Track with the enhanced referral package has become the norm for all rehab referrals with assessors working offsite during COVID.  Given the team had implemented the fast track process 6 months prior to COVID, the transition to this model for all patients was facilitated by the collaborative work already in place between the acute stroke team, the rehab stroke team and the PCH patient flow team. 
"Our goal with this pilot was to explore a local system-based change with the potential to improve the transition of patients from KHSC to PCH during their post-stroke care. The results suggest that the initiative has contributed to earlier access to inpatient stroke rehabilitation for patients in need of and ready for the rehabilitative phase of their care." Dr. Benjamin Ritsma, Department of Physical Medicine & Rehabilitation Queen's University - Assistant Professor Clinical Director - Rehabilitation; Director - Stroke Rehabilitation - Providence Care Hospital