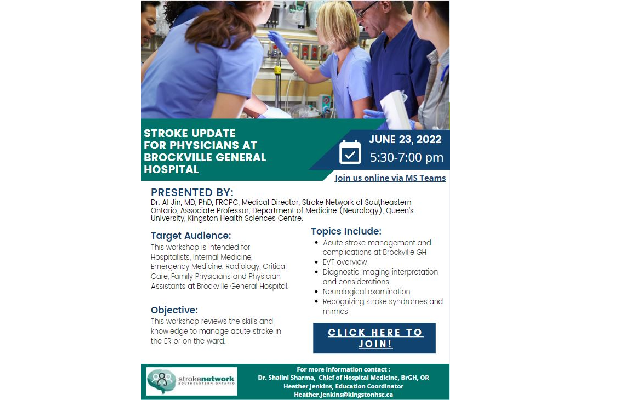 June 23, 2022 5:30pm–7:00pm
You are invited to attend the Brockville General Hospital Physician Acute Stroke Update on June 23rd, 2022, 5:30-7:00. *No registration required, simply click on the link below to join, or click on the link in the flyer.
Target Audience:  This workshop is intended for Hospitalists, Internal Medicine, Emergency Medicine, Critical Care, Family Physicians and Physician Assistants at Brockville General Hospital.
Objective:  This workshop introduces the skills and knowledge to manage acute stroke in the ER or on the ward.
Presentation Topics:
Acute stroke management and complications at Brockville GH
EVT overview
Diagnostic Imaging interpretation and considerations
Neurological examination
Recognizing stroke syndromes and mimics
Presenter: Dr. Al Jin, MD, PhD, FRCPC- Medical Director, Stroke network of Southeastern Ontario, Associate Professor, Department of Medicine (Neurology). Queen's University, Kingston Health Sciences Centre.
For more information contact:
Heather Jenkins, Education Coordinator, Stroke Network of Southeastern Ontario heather.jenkins@kingstonhsc.ca
_______________________________________________________________________________
Microsoft Teams meeting
Join on your computer or mobile app
Click here to join the meeting
Or call in (audio only)
Phone Conference ID: 540 347 52#